Today, I would like to talk about menus. It is so common these days to land on a restaurant's menu web page and see links to download their menu. One reason why this is so common is that it is so easy to do. Basically, highlight a piece the text and link it to a pdf or version of the menu. Unfortunately, easy execution is not always the right answer. Even though downloadable menus save the designer sometime during development and gives the opportunity for a restaurant to display a copy of their physical menu, it does not make it easy user experience.
What Exactly is a Web-Based Restaurant Menu?
A web-based restaurant menu is basically a digital version of your physical menu that is typed out online and does not require the click to download feature to view the menu.
Below, I have put together a couple of great points on the advantages of a web-based menu.
1. Great for SEO
Since web-based menus are in plain text, search engines like Google, Bing and Yahoo can easily grab keywords from it which will improve your website's search ranking.
2. Easy to View
Web-based restaurant menus are much easier to view because they are built to be legible on devices of all sizes. There is no need to pinch and zoom to view them as you would with a menu that is an image or pdf.
3. Easy to Update
Web-based restaurant menus are super easy to update. All it takes is the click of a button on your website editor. No need to wait for months to get your menu updated by a designer or printer to show your latest specials or newest additions.
4. Easy to Add Item Details
Unlike a printed menu where design spacing, alignment, and the page size is key to it's success, the web-based menu is very forgiving due to an infinite amount of space for content. For example, if you need to add all the key ingredients of a meal to a menu for allergy purposes, you will not need to be concerned about how all that information is going fit.
5. Easy to Translate
This is a major plus for web-based restaurant menus if your restaurant is located in a very diverse area. Due to the wonderful world of the internet and WordPress, there are plugins that can translate your website just by having the customer select their preferred language. This is completely impossible with an image or pdf menu unless you are willing to create separate menus for each language.
6. Higher Rate of Customer Conversion
If a menu is web-based, there would not be software issues regarding compatibility. For example, if your customer does not have adobe reader installed on their desktop or their mobile device is not able to view PDFs, the customer will not be able to view the menu. If a customer is not able to see the food being served, you could lose them.
7. Quicker Load Times
Web-based restaurant menus have quicker load times because they are text-based, unlike a pdf or jpg which require a larger bandwidth to download.
I hope you found this helpful. Make sure to inquire about web-based menus with your web designer on your website project!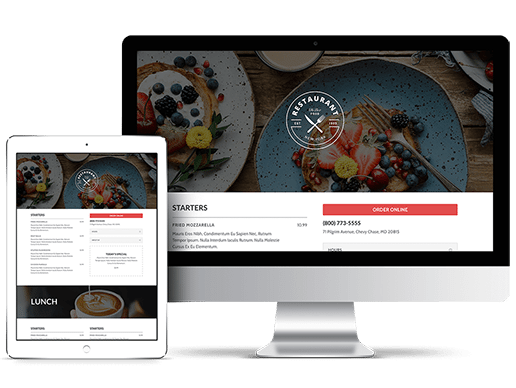 Need a starter website to get you in the online space and provide our customers with an insight into your business?
Check out our menu websites!